Over the past several month I've been prototyping various aspects of  an IoT platform – or more specifically, exploring the concerns of "soft" real-time handling of communications with potentially hundreds of thousands of devices.
Up to this point, being in .NET ecosystem I've been building distributed solutions with a most excellent lightweight ESB – MassTransit, but for IoT we wanted to be a little closer to the wire. Starting with the clean slate and having discovered Apache Storm and Nathan's presentation I realized that it addresses exactly the challenges we have.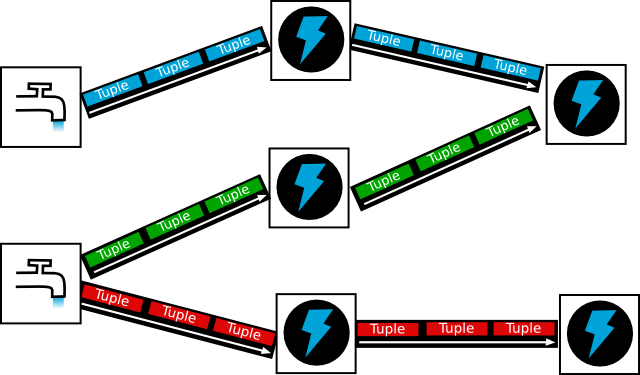 It appears to be the ultimate reactive microservices platform for lambda architecture: it is fairly simple, fault tolerant overall, yet embracing fire-n-forget and "let it fail" on the component level.
While Storm favours JDK for development, has extensive component support for Java developers and heavily optimizes for JRE components execution, it also supports "shell" components via its multilang protocol. Which is what, unlike Spark makes it interesting for a .NET developer.
Looking for a .NET library to implement Storm components there's the Microsoft's implementation – unfortunately components in C# end up looking rather verbose and it happens to work exclusively with HDInsight/Azure, which is a deal breaker for us, as we want our customers to be able to run it anywhere. Fortunately though, further search revealed recently open-sourced FsStorm announced on Faisal's blog and I liked it at first sight: concise F# syntax for components and the DSL for defining topologies makes authoring with it a simple and enjoyable process.
The FsStorm components could be just a couple of lines of F#, mostly statically verified, have clear lifecycle and easy to grasp concurrency story. And with F# enjoying 1st class support on Mono, we are able to run Storm components effectively on both dev Windows boxes and distributed Linux clusters while capitalizing on productivity and the wealth of .NET ecosystem.
It is now available under FsStorm umbrella as a NuGet package, with CI, a gitter chatroom and a bit of documentation.
While still in its early days, with significant changes on the horizon – something I want to tackle soon is static schema definitions for streams and pluggable serialization with Protobuf by default, I believe it is ready for production, so go forth and "fork me on GitHub"!